SOLUSI scientific magazine is a collection of quality scientific journals from various social science disciplines including economics, accounting, management and business. Topics raised in journals are adapted to current themes that can help practitioners and academics develop their knowledge and experience. The published journals are the results of studies and deep thoughts from competent and talented writers in their fields. The peer reviews as the directors are partners who always provide instructions and direction so that the scientific magazine SOLUSI is getting better and developing.
Online Submissions
 P -ISSN:1412-5331           E -ISSN: 2716-2532
Journal SOLUSI is indexed at : 
GARUDA: Garba Rujukan Digital by Ristekdikti - Indonesia , Google Scholar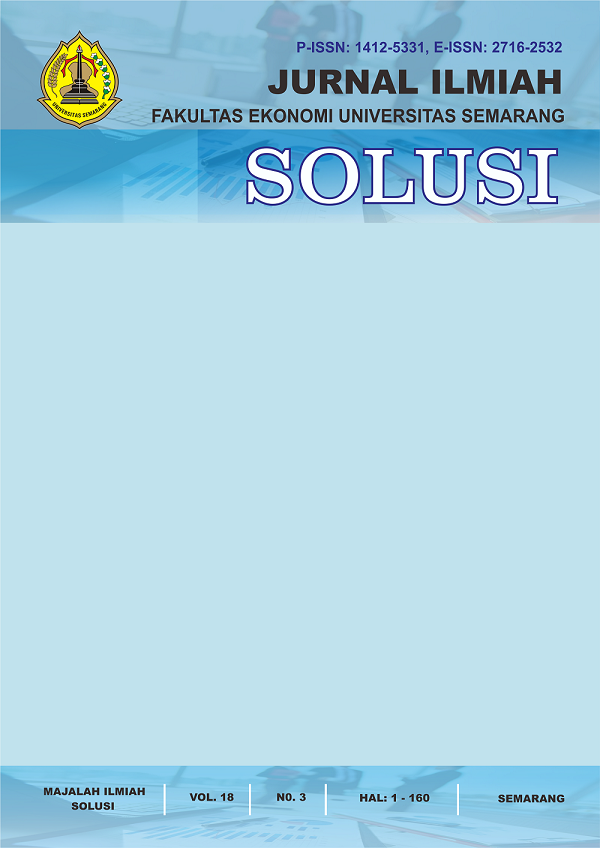 Announcements
No announcements have been published.
Vol 21, No 1 (2023)
Table of Contents
Articles
Selia Najmun Nayiroh, Scorina Dwiantari, Muhammad Rizaldi Alal Fala, M Fika Azam Naziha            

             

414-422
Rizky Agung Wicaksono, Ayu Nurafni Octavia, Moch Saiful Aprianto            

             

423-432
Yogi Prima Putra, Diba Ulfiya, Masine Slahanti            

             

433-442
Siti Fajrotul Nurjamilah, Ahmad Sahri Romadon, Sarani Eka Putri            

             

453-469
Dedek Uyun Apriliani, Shinta Eka Kartika, Arini Asma Nadiya            

             

470-479
Anike Dwi Setiyaningsih, Daniel Grace Christiawan, Arini Novandalina            

             

506-517